5 Ways Cleaning Carts Can Improve Productivity in Your Workplace



Cleaning carts are a staple in many cleaning industries as they make workplaces more convenient and efficient. They can commonly be used as hotel cleaning trolleys, hospital cleaning trolleys, office cleaning trolleys, janitorial cleaning trolleys, boarding school cleaning trolleys and various other types of cleaning trolleys for any environment where cleaning is necessary. Below are 5 ways that cleaning carts can boost productivity in your workplace.
1. Our Cleaning Carts Provide Good Storage Space for Cleaning Tools
One of the purposes of a cleaning cart is to transport cleaning tools and equipment. Seeing as this can include any number of detergents, cloths, gloves, bottles, brooms and more, using a janitor cart can alleviate the need for the worker to carry it all by hand. Janitorial cleaning carts such as our GRANDMAID Fine Housekeeping Cart are equipped with full sized cabinets that provide exceptional storage space for all your cleaning tools and have an adjustable middle shelf. We also have janitor trolleys like our GRANDMAID Black Cleaning Cart that have integrated holders and shelves to help store various cleaning equipment.
2. Our Cleaning Carts Are Easy to Manoeuvre
All of our cleaning carts have convenient manoeuvrability, suitable for all kinds of environments. They have castor wheels that not only provide mobility but also, in the case of cleaning trolleys like our GRANDMAID Black Cleaning Cart, are non-marking to maintain polished floor surfaces. Our housekeeping trolleys also have user-friendly handles that are easy to grip and steer and are compatible with narrow passages. Furthermore, we have bumpers available for all four corners to protect the walls and equipment, allowing you to focus on the job at hand.
3. Our Cleaning Carts Are Easy to Clean
Being easily cleanable adds convenience and efficiency when using one of our cleaning carts. In particular, housekeeping trolleys like our GRANDMAID Housekeeping Cart with Doors have a durable moulded construction that enables convenient cleaning and upkeep of its smooth surfaces. This reduces the amount of time spent cleaning the cart and increases the amount of time spent using it.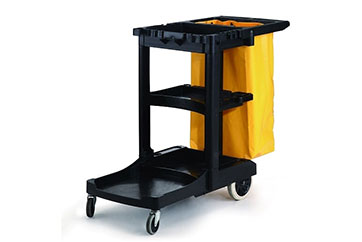 4. Our Cleaning Carts Come With Convenient Features and Accessories
Not only are our cleaning carts functional in and of themselves and we also have additional features and accessories available to customise your trolley to better suit your intended use. For example, we have our GRANDMAID Housekeeping Cart with Doors and Protective Security Hood, which safely secures any important tools and equipment for the cart's next use. We also have additional polyline bags and storage covers that suit both our GRANDMAID Black Cleaning Carts. These accessories help accommodate for a wider scope of industrial uses.

5. Our Cleaning Carts Motivate Workers to Do Their Best
Given the convenience and efficiency that our janitor carts provide, we enable workers to work at their best by alleviating the need to carry tools by hand. This motivation can play an important role in improving the overall productivity of your workers and, by extension, your workplace.
These are just 5 of many ways that our array of cleaning carts can improve productivity in your workplace. For more information and our full range of cleaning trolleys, check out our Hospitality and Cleaning products.