How to safely lift a person from a Forklift using a Safety Cage



Using a forklift to access heights is an inherent part of many businesses. Whether it is to perform maintenance, carry out elevated stock checking, replace light bulbs and many other manual tasks, the ability to reach heights is necessary in many workplaces in order to perform everyday duties. With Team Systems' Safety Cage, using a forklift is the safest it has ever been.
Collapsible and Non-Collapsible Team Systems' Safety Cage
Available in both collapsible and non-collapsible forms, Team Systems' Safety Cage is a forklift add-on that is designed to enhance safety and stability for personnel. It is designed to accept the forks of a forklift truck, and with retaining pins, it safely secures in position as an adjustable forklift work platform. This safety cage can carry up to two people and has a load capacity of 250kg. Its dimensions are 1.2m2, with a cage height of 1m and an additional 2.2m high safety screen.

Team Systems Safety Cage
Team Systems created the safety cage to provide workers with a viable and safe solution for working at heights in the manufacturing industry. Established in 1994, Team Systems has become one of Australia's leading manufacturers and importers. With warehouses in Victoria, New South Wales, Western Australia and Queensland, they produce a variety of products including castor wheels, industrial trolleys, ladders and access equipment, plastics and shelving, lifting and handling equipment and safety equipment and storage.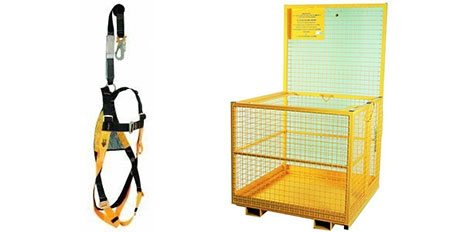 Safety Cage Construction
The safety cage has a 40mm square tube construction with a powder-coated paint finish. It features an inward opening self-closing door, an internal handrail, fitted safety chains and toe boards on all sides. It also has two harness anchor points, skid-resistant floor plates and full-length fork sleeves. The pins for attaching the fork are supplied with the cage.
Additionally, an optional safety harness is available for added precaution. It is designed for fall or arrest protection weighing up to 136kg and comes with an energy-absorbing 1.8m long lanyard. Note however that the use of a safety harness is not mandatory with this platform.
The collapsible version of the safety cage comes with all the benefits that the non-collapsible safety cage does, however it can also be collapsed and folded for convenient storage and transport. Within minutes, it can be reduced to a compact flat pack that is easy to store, assemble and disassemble, and it is perfect for freighting.

The Team Systems Safety Cage is the only safe and authority approved way of lifting personnel to a height when using a forklift. Not only is it durable and secure, but can also be collapsed and folded for easy storage and transportation. Workers no longer have to worry about their safety when using forklifts to perform tasks at height, as this safety cage alleviates the potential for harm. Both the collapsible and non-collapsible versions of the safety cage are available on the Equip2Go website, as is the optional safety harness.