Your Guide to Choosing the Right Lifting Sling



Lifting slings are used in a variety of applications and have become a lifting industry standard. They safely and effectively lift objects without risk of damage, and are convenient to have in most workplaces. Different applications require different industrial lifting straps, and Equip2Go has a wide selection of synthetic lifting slings and chain slings.
Synthetic lifting slings are lightweight while maintaining strength and durability. At Equip2Go, all webbing slings are made from 100% polyester, and have robust safety tags. Polyester lifting slings are widely used in construction industries because they come in all kinds of standard sizes, are easily replaceable and are not too expensive. Additionally, their softness and flexibility enables them to shape and mould around the configurations of irregular loads. However, as sling belts cannot be repaired in most cases, any evidence of damage should signify the need for their replacement.
There are three main types of synthetic slings: Flat slings, round slings and endless slings. While they are all used for similar applications such as lifting poles, pipes, roofing sheets and stone, there are nuances between the three that affect their use. It is important to choose the right sling to suit your needs.
Flat Slings
Flat slings have eyes on their ends that have added reinforcing to reduce wear and tear. They are generally stiffer than round slings and tend to have wider surface areas, reducing the amount of pressure on the sling. They are commonly used for more delicate loads, such as with objects made from fibreglass. Equip2Go's range of flat webbing slings have reinforced eyes and are fully certified to meet Australian standards AS1353-1997. They also have a safety factor of 8 to 1. You can find flat slings in load capacities of up to 10,000kg and lengths of up to 10m.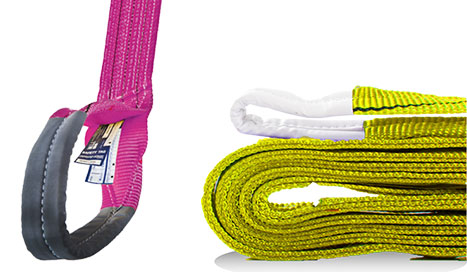 Round Slings
Round slings have internal load-bearing strands that are covered with a protective cover, and are wound in a continuous coil to form an endless sling. They are made with high quality dense fabric that protects the internal fibres, and are fully certified to meet Australian standards AS4497-1997. They have a safety factor of 7 to 1. Equip2Go has round webbing slings in lengths of up to 10m and capacities of up to 20,000kg.
Endless slings are a variation of round slings in that they are also wound into one continuous coil to form an endless sling. They are a cheaper alternative and are, in some cases, single-use only. You can find endless crane slings in lengths between 1-3m and in either 1,000kg or 2,000kg capacities.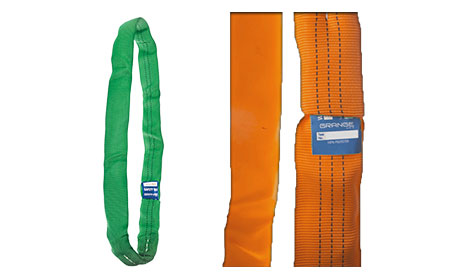 Chain Slings
Besides synthetic lifting slings, Equip2Go also has a broad range of chain slings, which are alloy grade T80. Being exceptionally tough and reliable, chain hoists are ideal for lifting heavy and bulky loads. They can withstand high temperatures and exposure to chemicals and UV rays, and as such, they are suitable for applications such as in foundries, steel mills and heavy machine shops. The harsh conditions of these environments can otherwise damage synthetic hoist straps.
At Equip2Go, you can find chain slings in single-leg, 2-leg and 4-leg designs, each coming with shortening grab hooks and self locking hooks. Additionally, all Equip2Go lifting chains are fitted with a working load limit tag, issued with individual serial numbers and fully certified to meet Australian standards AS3775.1. 6mm, 7mm, 8mm, 10mm and 13mm chain sizes are available in lengths between 1m to 6m.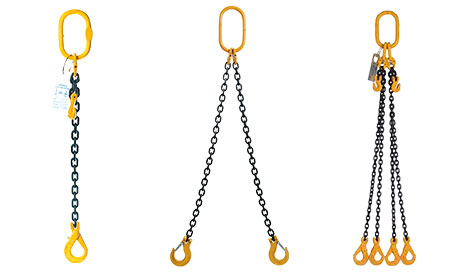 Chain hoists should be regularly inspected for defects such as wear, stretching, bent or twisted links, ineffective safety catches, cut, gouges, heat discolouration and welding splatter. However, unlike synthetic lifting slings, they are easily able to be repaired, load tested and re-certified upon suffering from damage.
Webbing slings have many uses depending on the type. For more information, check out the lifting slings we have available on our website.